Let's talk about something you probably didn't think you'd be thinking about this spring/summer: pot roast.
Pot roast is traditionally served as a winter wood. Hearty and tender, smothered in gravy and served with potatoes and carrots, pot roast is the perfect food for cold, snowy evenings by the fire.
Traditional pot roast preparation
I, like most people, eat seasonally. As soon as warm weather crops up I crave cool, juicy crunchy things. Salads, fruit, vegetables and lean protein are coupled with slow gin fizzes, sangria and gin and tonics. The last thing I want to eat is a heavy meal of meat and potatoes (my boyfriend, the meat and potato king, cringes even as I write this).
However, I really love pot roast and miss making it during the warmer months. So, I decided to revamp pot roast's image and turn it into a more spring/summer-friendly food. I purchased two large roasts at Costco and set out to experiment.
Some people are afraid of pot roast. They assume that, because they are time consuming, they are difficult to make. This is not true. In fact, there are few things simpler to make than a good roast, and few things that will impress your family as much.
The best way to cook a roast is in a large pot or pan that can be used both on the stovetop and in the oven. To start, preheat the oven to 350 degrees. Season the roast, being sure to really rub the spices into the meat rather than just sprinkling it on top. you can use an Italian seasoning blend and bay leaves for a more traditional flavor, or try something new: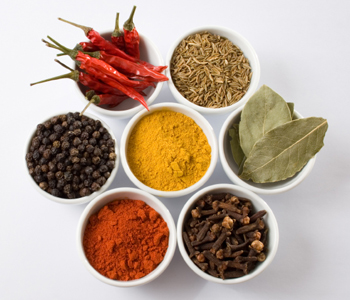 Think outside the spice and herb box.
- Herbs de provence and black pepper
- Chili powder, powdered unsweetened chocolate, cloves and a dash of cinnamon
- Black cherry balsamic vinegar, garlic powder and black pepper
- Au Poive paste and orange zest
- Rosemary, lavender and black pepper
- Spanish paprika, garlic powder and tajine spice
Now comes the first stage of cooking: browning. This is essential, as it will help keep the roasts juices locked inside and also creates some good browned bits in the bottom of the pan that will provide essential flavor for your gravy.
Add a little oil to the pan, just enough to prevent the roast from sticking. Add garlic and roughly chopped onion to the pan and allow to saute until translucent. Add the roast and sear 5-7 minutes on each side, or until well browned.
Once the meat is browned, add some beef broth and red wine. The liquid should cover the sides of the roast but not the top. Cover the pan and pop the roast in the oven. A 3 lb roast should take about 4 hours to cook, although this will vary. Set the oven timer for 3 1/2 hours. Unlike some foods, pot roast does not need to be baby-sat, so you can ignore it for the next 3 1/2 hours.
When the timer goes off, add whatever vegetables you want: carrots, bell peppers, potatoes (if you must), etc. Then re-cover and pop the roast back in the oven for another 30 minutes. Other additions, depending on the seasonings you used, could be:
- Dried fruit (cherries, apricots or plums)
- Grilled sweet piquillo peppers
- Parsnips or other root vegetables (this will give it a more "fall" taste)
When the roast is finished, remove the meat from the pan. The meat will be fall apart tender, so a spoon or spatula will be more effective than tongs. Use the leftover liquid to make gravy by adding a little extra wine and whisking in a simple flour and water or flour and butter rue to thicken it up.
During warm weather, I prefer to balance the richness of the pot roast with something fresh and crunchy, such as green salad, cole slaw or cucumber salad. If you want a starch I suggest serving the roast with seasoned rice (Spanish, cilantro lime, cardamom, cucumber ginger, etc.) This will make for a hearty but ultimately lighter meal than the winter pot roast we are used to. Plus, it leaves more tummy room for all those spring/summer seasonal beers.
As always, play and have fun. What else is food for if not to encourage our creativity?