I
've decided that much of my love for accessories revolves around my love of ritual.
For example, I have long wanted a dressing table/vanity. I enjoy my morning ritual of putting on makeup, choosing jewelry and applying perfume, and a vanity is the perfect way to streamline these acts. Instead of bouncing back and forth from the bathroom to my bedroom, a vanity provides a single, designated space in which to primp.
I'm pretty sure I'd look more like these ladies if I had a dressing table.
S
ince entering my mid-twenties I have also developed a pre-sleep skin care ritual (I love
Botanics
products) that I find incredibly enjoyable. It's almost therapeutic to wash away the day's grime. Removing my makeup, washing my face and applying lotion are as important to my nighttime routine now as brushing my teeth. And, of course, accessories make this process all the more enjoyable. How, you ask? Let me explain...
Last month I found a lovely soap dish and shower curtain that have the clean, simple look I like in my bathroom. I like soap dishes. They are both practical and aesthetically pleasing. And a nice shower curtain can really set the tone of a bathroom (in my old apartment I opted for a fun fish print...now I've gone with white).
Now I am now looking for a decorative container for the little cotton pads I use to remove my makeup. Popping the lid off a pretty jar is much more appealing then the nightly rustling of plastic packaging.
Bed Bath and Beyond offers a variety of simple bathroom accessories, but for
a more unique look I prefer using repurposed or found objects.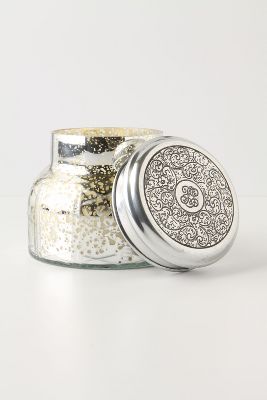 This mercury glass jar from Anthropologie is filled with a candle,
but once the candle is used would make a great storage jar for the bathroom. For a fun project you can also learn how to
make your own mercury glass objects
.
At $91.99 this onyx jar by Selamat is out of my price range, but antique shops and estate sales often have similar items at much lower prices.
Never mind that I don't like clutter and will therefore keep the jar out of view in the cabinet. In fact, my boyfriend thinks I'm crazy. If it's hidden why bother shelling out the extra money? But I don't care. It's kind of like wearing your favorite underwear...no one else can see it but it just makes you feel good.
Maybe I'm just overcompensating for having little personal space, finding power in having control over my daily rituals and their attending accoutrements. Or maybe I just like pretty things. Whatever the reason, w
hen it comes to my rituals, I'll opt for beauty every time.